The very gorgeous Sabina, who is only into girls, really wanted to bring her girl-girl sexual experience to Paisley, who had never had any experience with any girl in her lifetime! Paisley, who loves men, and is a very kinky & extreme type of girl, chose Sabina because of how perfect & sensual she looks. We first see them at a park, in cute summer dresses, watching them kiss for the first time, and getting upskirt views. Notice how strong Paisley is, carrying Sabina all around (those squats really help!). Then they start playing with each other's breasts, squeezing them hard, and sucking on each other's nipples, for some really sensual breast play. Once butt naked, Sabina starts going down on Paisley, showing her how oral sex is done. She actually gets her to orgasm (with visible vaginal contractions) with her mouth! Paisley tries the same, fingering and tasting Sabina's clit, then with a help of a vibrator, brings Sabina to a strong orgasm (and strong vaginal contractions). Then she tries to gape her... and begins fingering Sabina's butt! Paisley also plays with the vibrator, instead sticking it inside her vagina for G-spot play. She's then ready for a fisting! Sabina's whole hand goes in deep, and she gets fist fucked hard from different positions. Notice how wide Paisley can gape after such stretching action! After a little pee session by Sabina, they put on cute bra/panties/heels, and do a dance together, before taking a large double-ended toy into each other deeply, trying some rather unique positions! Sabina gets especially hard-pounded going deep with that dildo! Then to some kinky play, where Paisley takes a big red bouncy ball deep inside her, then pushes it out, seeing how far she can use her strong muscles to shoot it out! Finishing the day with a very sensual foot fetish session, and both girls get to suck and lick each other's toes, as well as taste every part of each other's pretty feet. Two superpopular girls finally get to meet, and become a very special girl-girl update!
Download the full nude gallery!

Download the full nude gallery!
Girlz

Lesbian Affairs

Posted 3 months ago
Models in this gallery:

Sabina Rouge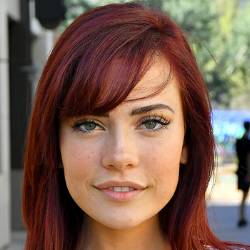 Paisley Rae