Black Sheep Cousins
Kendra Spade slips through a door into a quiet bedroom. She leans back against the wall with a sigh, rubbing her temples. She looks a little stressed, folding her arms across herself. She unwinds for several seconds by herself until the door behind her opens and Eliza Ibarra steps into the room. They casually greet each other as they both lean against the wall in silence for a few moments. Kendra doesn't look like she wants to talk at first but Eliza speaks up again after a few moments.'Are the family reunions always this intense?' Eliza asks. 'Yeah, they're always this loud. That's why I came in here to get a breather. What did you say your name was again?' Kendra asks. Eliza gives her name. 'Yeah, I still don't recognize you,' Kendra states with mild curiosity. Eliza tells her that that's okay. She moved around a lot with her family, which is why Kendra doesn't recognize her. 'Not gonna lie, I'm a bit overwhelmed by all these new names and faces, though,' Eliza says with a nervous laugh. 'You said you move around a lot, right? So that must make you Madison and William's kid, which makes us, uh... second cousins,' Kendra responds. Eliza nods, reflecting on how hard it is to keep track of all of their cousins, which Kendra agrees with a snort. 'This isn't even half of them,' Kendra adds.Eliza then comments that she's noticed that Kendra hasn't really been mingling with her family much. Kendra shifts uncomfortably, still looking a little guarded and contrary. After a moment or two, she admits that she feels like the black sheep of the family sometimes. Eliza gently asks why. Kendra bluntly admits that she likes girls and, as far as she knows, she's the only 'black sheep' in the family. It makes things a bit lonely. Eliza thoughtfully pauses, then leans more into Kendra. 'Baa,' she shyly says, imitating a sheep.Kendra is surprised. 'YOU'RE a... 'black sheep', too?' she exclaims. 'Yeah, though I'm not really out yet, so let's just keep this between us,' Eliza admits. Kendra dramatically sighs, shaking her head. 'Yeah, sure, whatever. Man, it's a shame we're family since you're pretty hot... I mean, we're only SECOND cousins though, so...' Kendra flirts. Eliza gasps and blushes, remarking in a hushed voice that Kendra is crazy! Kendra looks her up and down and tells her that she can be WAY more crazy than that, if Eliza wants to find out just how much. Eliza is both nervous and excited. Kendra is even more flirty now, reminding Eliza that she said so herself that her family's always travelling... and the reunions are few and far apart, so they don't have to worry about TOO MUCH awkwardness between them after the fact... Kendra runs a hand along Eliza's arm while Eliza shivers. Kendra teases and asks if she's cold in a teasing way. Kendra can think of some fun ways to warm her up... 'Oh, what the heck! We're only young once! Er - you ARE at least 18, though, right??' Eliza hurriedly checks, giving into her primal urges, as Kendra laughs and confirms that she is. Kendra then pins Eliza to the wall and kisses her. Eliza makes a sound of surprise, but melts into the kiss since that's exactly what she wants, too.It doesn't take long before they're on the bed together, caressing each other's bodies ravenously. Kendra pulls down the front of Eliza's dress and sucks on her hard nipples as Eliza gasps. Kendra shushes her. After all, they don't want to get caught by their family. Stripping off the rest of her clothes, Kendra lays Eliza down on the bed and buries her face in Eliza's juicy little pussy.These beauties may be the black sheep of their family...but things are about to get white-hot.Story inspired by an original submission by Girlsway member, ossienelson4!
Download the full nude gallery!

Download the full nude gallery!
Girlz

Lesbian Affairs

Posted more than a year ago
Models in this gallery:

Kendra Spade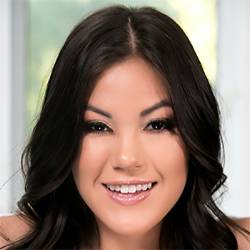 Eliza Ibarra